A 'Sweet' Finish to 2019
With a No. 9 final national ranking, a trip to the NCAA Sweet 16, a top-three finish in the Pac-12 Conference and four players earning All-America recognition, the Utes had a season to remember in 2019.
Led by Beth Launiere, who celebrated her 30th year at Utah by earning Pac-12 and AVCA Region Coach of the Year honors, Utah finished in the top 10 of the AVCA poll for the first time in school history. She guided the Utes to their fourth NCAA Sweet 16 appearance all-time and the second in three years.
Utah went 24-10 overall and 14-6 in the Pac-12 to place third, setting high marks for both league wins and finish since joining the "Conference of Champions" in 2011.
Junior outside hitter Dani Drews became the second player in program history to be named an AVCA First Team All-American. Drews set a new single-season record with 643 kills and was named the AVCA Pacific South Region Player of the Year. The All-Pac-12 selection ranked third in league play by averaging 4.76 kills per set. She had 15 matches with over 20 kills and two with over 30. Against USC, she set a program rally-scoring record with 33 put-aways. Drews also led the team with 34 aces and recorded 278 digs and 72.0 blocks. She was a Second Team All-American and an All-Pac-12 honoree in 2018.
Junior outside hitter Kenzie Koerber earned Second Team All-America and All-Pac-12 honors. Koerber ranked second on the team with 2.99 kills per set, second with 2.41 digs per set and third with 109 blocks. She was the only player in the Pac-12 to earn both Offensive and Defensive Player of the Week honors. Koerber was an honorable mention All-American in 2018.
Berkeley Oblad came back for a fifth year after sitting out the majority of the 2018 season with an elbow injury and made it count, earning Second Team All-America honors. The middle blocker, who also earned All-Pac-12 honorable mention, was a force at the net with 159.0 blocks and totaled a career high with 338 kills while hitting .317. Oblad became the fourth player in Utah history to have 1,000 career kills and 500 career blocks. She was named an honorable mention All-American in 2017.
Sophomore Saige Ka'aha'aina-Torres earned All-America honorable mention and All-Pac-12 honorable mention in her first year as the starting setter, setting a Utah single-season record with 1,518 assists. Ka'aha'aina-Torres had at least 50 assists in 10 matches and reached 67 assists twice—the most for a Utah setter since 2010.
Zoe Weatherington was named to the Pac-12 All-Freshman Team. The heavy-armed righty averaged 2.44 kills per set. She had 15 matches with double-figure put-aways and came up big against highly-ranked Pittsburgh, BYU, Stanford and Washington.
Kenzie Koerber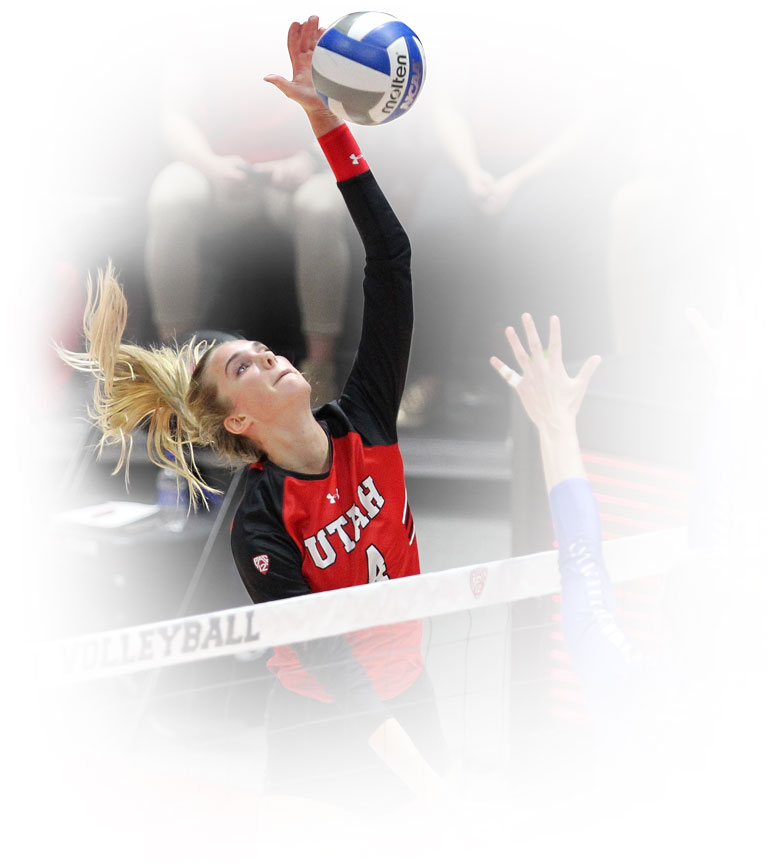 2020 Beach Volleyball Preview
Six players have been training for the beach volleyball season exclusively all fall, including veterans Jessica Villela, Olivia Teerlink and Keana Smalls.
Villela went 5-7 as a freshman last year playing in the three spot with Lauren Sproule. Teerlink goes into her senior season after being named Pac-12 All-Academic honorable mention while playing with Kinga Windisch and Phoebe Grace in 2019. Smalls returns for her second season with the team after playing in the four or five spot.
Two graduate transfers have joined the team. Mckenna Granato transferred from Hawaii, where she played on the indoor team. She was named to the All-Big West First Team in 2017 and 2018 playing outside hitter. Granato led the team in kills her junior and senior season.
The other graduate transfer is Tiyana Hallums. She played libero at Gonzaga and totaled 454 digs her senior season, having 20 digs in at least nine matches. Hallums left Gonzaga as the program's all-time leading digs leader. Shayne Francisco is the sixth beach-only player on the roster. She is a freshman from San Capistrano, Calif.