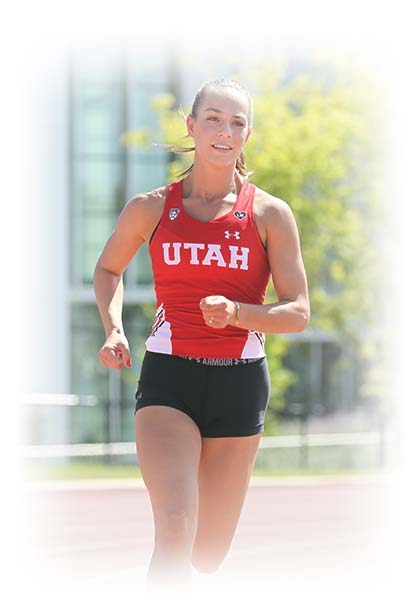 Ruby Jane Matthewson
2021 Track & Field Preview
The Utah track & field team looks to get out of the blocks with a strong start in 2021.
The Utes set five new school records, had 15 student-athletes enter or move up on the all-time performance list, and recorded a plethora of personal-bests in 2020. Chad Colwell, who was recently elevated to associate head track & field coach, has spearheaded Utah's continued progression and rise on the track & field side since his arrival four years ago.
Utah will have the majority of runners back from last season's team, including everyone who was a part of the school-record breaking 4x400 team in Lauren O'Banion, Skyler Blair, Oneillia Fuller and Jackie Martin. The quartet set the new record at last year's MPSF Championships with a mark of 3:40.39—which was good for fifth place. In addition, Sophie Ryan notched a new PR in the mile as well, registering a time of 4:45.51 that moved her into fourth on the all-time performance list.
Other notable returners for the upcoming season include Whitney Hessler, Brooklyn James, Maya LeBar, Ellie Lundgreen, Ruby Jane Mathewson, Taylor Watson and Jasie York. On the distance side, the Utes will have the services of Anna Busatto, Emma Christensen, Astrid Lindgren, Brooke Manson, Trina Moreno, Sarah Newton, Natalie Platil, Kennedy Powell, Poppy Tank and Bella Williams in addition to the newcomers.
Joining the Utes for the 2021 season on the track will be Kelise Davis, Delaney Gates, Bailey Kealamakia, Makenna McCloy and Annie Murdock. Davis, a transfer from Nevada, will be competing in sprints for Utah while Gates will see action in jumping events along with events on the track. The Utes also welcome a trio of locals in Kealamakia (hurdles), McCloy (sprints) and Murdock (sprints). Kealamakia hails from Kaysville and competed at Davis High School. McCloy ran at Tooele High School while Murdock attended Highland High School.
Spring 2021 Cross Country Recap
TUtah placed fifth at the 2021 Spring Pac-12 Cross Country Championships, led by All-Pac-12 first-team performer Poppy Tank, who placed sixth in the 6K event. Tank also earned All-America honors by placing 28th at the NCAA Championships.
Tank, a senior from Plymouth, England, is the eighth Ute cross country runner to earn All-America honors. She was also named first-team all-conference a year ago, becoming the only Ute named to the All-Pac-12 first-team twice. She is one of three Utes to to earn multiple All-Pac-12 honors, joining Amanda Mergaert (2011 and 2012) and Grayson Murphy (2016 and 2017).
The next five Utah runners finished with new personal bests. Freshman Morgan Jensen was the second Ute to cross the finish line behind Tank, placing 34th. Sarah Newton crushed her previous PR by nearly 20 seconds and placed 37th. Sophie Ryan was the fourth-best Utah finisher (44th) and surpassed her previous personal best by over 10 seconds. Natalie Platil was the fifth scoring runner for Utah (45th place), beating her previous persona best time by over 30 seconds.
Karli Branch, Sara Leonard, Kennedy Powell and Astrid Lindgren rounded out the runners for Utah at the Pac-12 meet.
Poppy Tank