Beach Volleyball's Inaugural Season
The Utes have enjoyed their first spring of beach volleyball in 2017, competing in tournaments in Stanford, Calif., and Honolulu. The Utes then headed back indoors for a series of matches before competing in the Pac-12 Beach Volleyball Championship in late April.
The Ute beach volleyball team operates as a combined program under director of volleyball and indoor head coach Beth Launiere, along with assistant coach JJ Van Niel, who serves as the head coach of the beach volleyball team.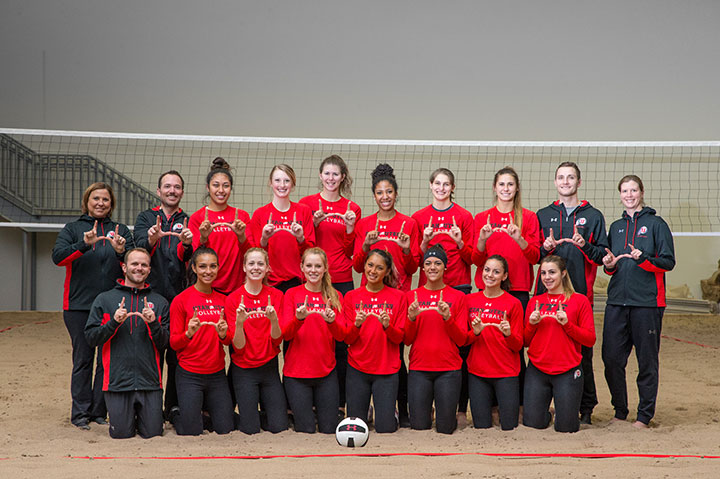 The Team
Utah, which finished the 2016 season ranked No. 25 in the final AVCA poll, advanced to the NCAA Tournament and recorded a 20-win season for the third time in four years.
In Pac-12 play, The Utes had the program's best finish in six years as a league member by placing fifth with an 11-9 record. Utah also had its best overall winning percentage (.625) and most road wins (10) since 2008.
Senior outside hitter Adora Anae earned second team AVCA All-America and first team All-Region honors. Anae, who broke her own school record for kills in a single-season (592), became the ninth different Utah player to earn AVCA All-American honors overall and the first since 2013.
Anae also earned first-team All-Pac-12 honors and led the league in kills per set (4.68) and points per set (5.20) during the regular season.
Senior middle blocker Tawnee Luafalemana, who received All-Pac-12 honorable mention in her first season after transferring from the College of Southern Idaho, registered 2.03 kills per set while hitting a team-best .330 on the season. She also led the squad with 14 solo blocks and 113 assisted blocks.
Senior outside hitter Carly Trueman was second on the team in kills per set (2.78). Sophomore setter Bailey Choy led the Utes with 7.17 assists per set in 2016. Brianna Doehrmann returns as a defensive specialist/libero.
The Utes had three Pac-12 All-Academic selections in 2016 with Eliza Katoa making the first team, Jessie Openshaw the second team, and Berkeley Oblad receiving honorable mention.
Among the newcomers for 2017 is freshman outside hitter Dani Barton, who was a 2016 second team Under Armour All-American and the Utah Gatorade Player of the Year. Barton was a standout for the Utes in beach volleyball during the spring.