A year removed from the best season in Utah history, veteran head coach Rich Manning can see bright days ahead.
After stumbling in 2017, due largely to injuries, the Utes are looking to recapture the magic of 2016. During that campaign, Utah enjoyed the best post-season run in school history and finished with a No. 16 national ranking, its highest year-end mark year since 2006.
Many key pieces from that squad are still on the roster and once again fully fit, including All-Pac-12 performers Paola van der Veen, Hailey Skolmoski and Tavia Leachman. Utah also added 13 newcomers to its solid nucleus.
Forwards
Hermann Award candidate Hailey Skolmoski led the team in goals the last two seasons and is the first player in program history to earn first team All-Pac-12 honors. At the center forward position, freshman Makalya Christensen provides cover for Skolmoski. Winger Max Flom enters her senior season having played in every game of her career. Veteran Ireland Dunn will join her on the opposite side.
Attacking Midfielders
Netherlands native Paola van der Veen, an All-NSCAA and All-Pac-12 selection last season, finished among the conference's top five in goals and points. A pair of redshirt sophomores, Kristin Fairbairn and Natalie Kump, will battle some talented newcomers for playing time.
Defensive Midfielders
Haylee Cacciacarne played every game last season and led the Utes in assists. Demi Lopez is back after missing all of last year with an injury, while Jessica Hixson came on late in the season.
Utah finally has its center-back pairing 100 percent healthy. Tavia Leachman, an All-Pac-12 performer and NSCAA All-Pacific Region honoree as a freshman, has fully recovered from injury. Aleea Gwerder, who started every game at outside back as a freshman, has moved to a central position. Her fitness level was on full display during an impressive fall camp.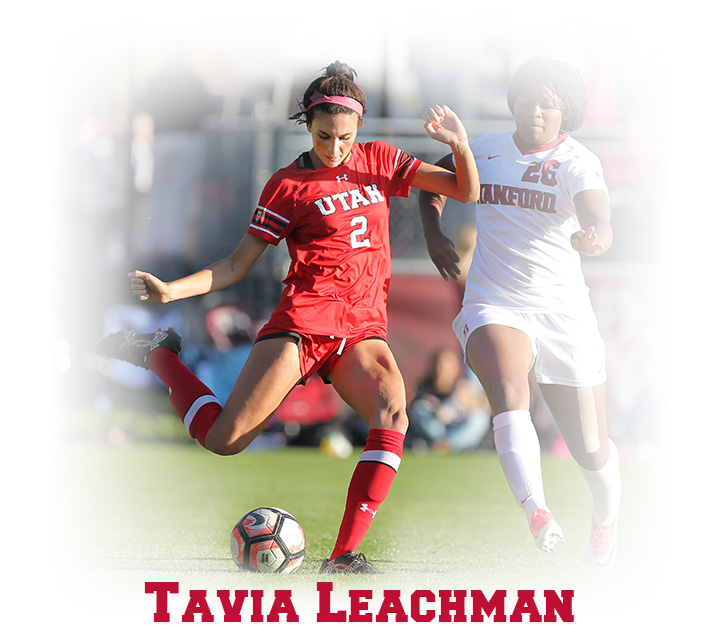 Defenders
A pair of U.S. Youth Team selections, Holly Daugirda and Hailey Stodden, are prepared to start at the outside back slots. Tatum Thornton could also see time as a starter after playing 11 games as a freshman.
Goalkeepers
Carly Nelson returns in goal for a third straight season after playing 16 games for the Utes last year. SJ Edwards redshirted last season after earning Oregon ODP Player of the Year honors prior to her arrival at Utah.