Long recognized as a site of championships, the Huntsman Center ranks third among the nation's arenas for the most NCAA men's basketball tournament basketball games hosted, with 81 contests having been played in the facility. The JMHC played host to the 1979 NCAA Basketball Championship "Dream Match-Up" featuring Indiana State's Larry Bird and Michigan State's Magic Johnson.
The men's NCAA regional tournament came to the Huntsman Center twice (1971 and '81). First and second round games took place 13 times (most recently in 2006). The JMHC has hosted NCAA women's basketball first and second round games twice (2001 and '11).
Also a famous gymnastics venue, the Huntsman Center has hosted a record nine national gymnastics championships—one AIAW and eight NCAA Championships (most recently in 2007). Utah has also hosted 12 regional meets (most recently in 2012) and two Pac-12 Championships (most recently in 2015).

Volleyball
The Utah volleyball team has made the Huntsman Center is permanent home since the fall of 2013. The largest crowd to watch a Ute home match all-time (2,218) came on Sept. 20, 2012 as Utah hosted No. 6 Stanford in the JMHC. Utah went 7-1 in the Huntsman Center in 2014.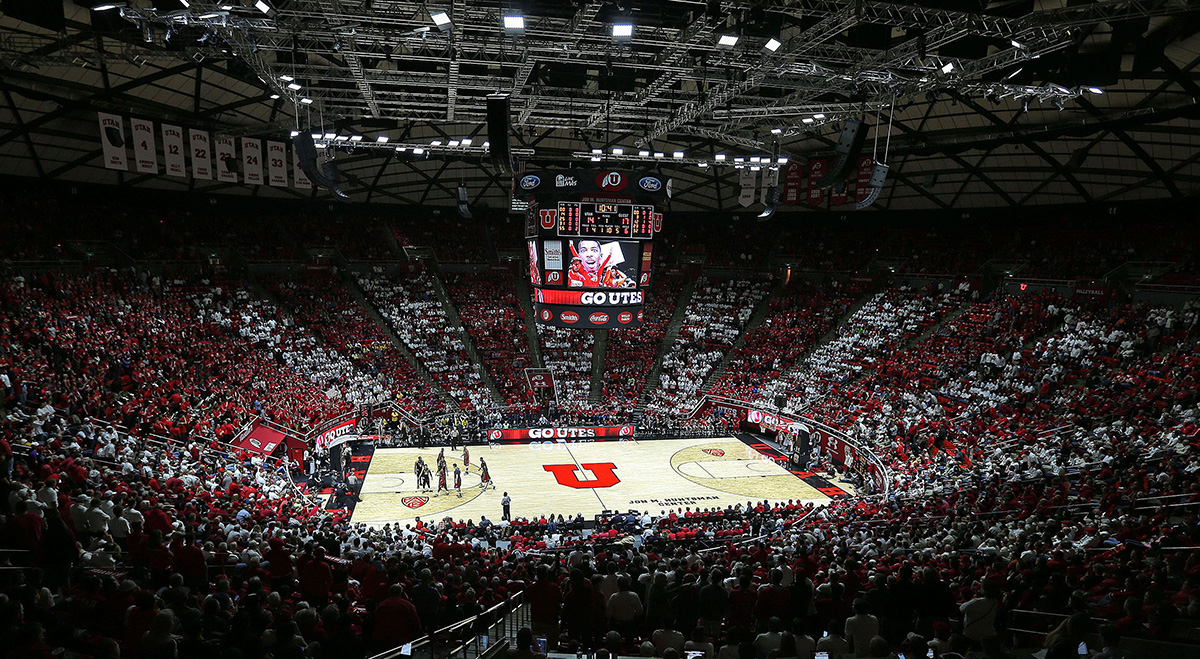 Men's Basketball
Nearly eight million fans have watched the Runnin' Utes in the Huntsman Center, where the team is 576-141 (.803) all-time with winning records in 40 of the last 41 seasons—including eight undefeated campaigns. Utah averaged 12,101 fans per home game in 2014-15, its highest mark since 2000-01.
Women's Basketball
Utah women's basketball has won 85 percent of its games (461-81) in the facility, ranking in the top 20 among active NCAA Division I arenas. The Utes have had nine seasons without a loss in the Huntsman Center and recorded a 28-game home winning streak from Jan. 12, 1995 to Feb. 8, 1997.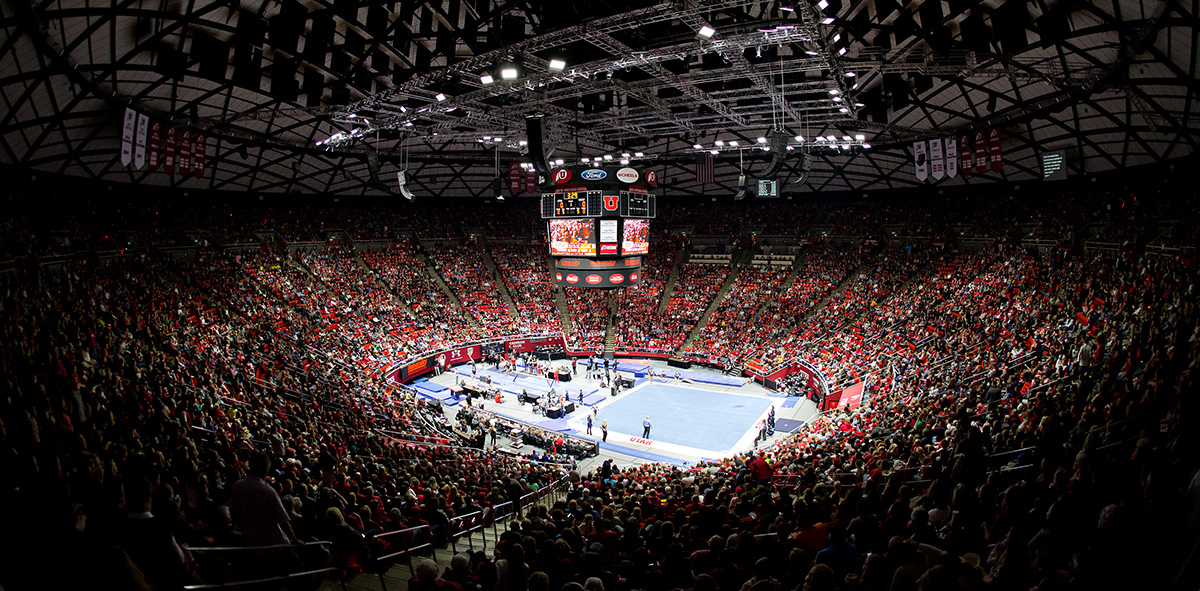 Gymnastics
Utah gymnastics owns the longest home win streak by any NCAA sport, going 24 years and 170 meets (Feb. 20, 1979 through Mar. 23, 2002) without losing a dual meet. Including postseason competition, the Utes have won 94 percent of their home meets (427-26). Every NCAA gymnastics attendance record has been set in the JMHC, including the most people ever to watch a collegiate gymnastics meet (16,019 vs. Michigan in 2015) and highest season attendance average (14,950 in 2015). Utah has led the nation in gymnastics attendance 31 times and won its fifth all-women's sports attendance title in 2014-15.